July 21, 2003
Marked The 150th Anniversary Of Central Park.
Park History

Official Anniversary Web Site


Through the Tree Trust and Adopt-A-Bench , the Women's Committee of the Central Park Conservancy has created a special gift opportunity. You can endow a tree and neighboring bench as a pair at the 100th Street Pool for $11,000, which is $1,500 less than if they were endowed separately. The usual contributions would be $5,000 for a tree and $7,500 for a bench.

Adopt-A-Bench programs

.


Central Park
Frederick Olmstead aimed for a "pastoral ideal," hoping Central Park visitors would feel as if they were in the countryside, not the city.

Frederick Law Olmstead designed Central Park in the mid-1800s as a getaway from city life, a place where people could go to relax, mingle and enjoy nature. Today, New York's skyscrapers loom larger than they did in Olmstead's day, but the picturesque park retains its pastoral charm for the millions who take advantage of it each year.

Situated in the heart of New York City between 59th street and 110 streets , Central Park is the most well known of all the parks that Frederick Law Olmsted designed.
Although he was the park's superintendent, he had no hand in the call for a park. Andrew Jackson Downing was the original force behind the park. He and his partner, Calvert Vaux were to submit a design for the park. In 1852 Downing died in a riverboat accident and Vaux asked Olmsted to take his place. In 1858 they entered the competition to design the park, with an entry they called Greensward, which was chosen as the park's design.
Other Facts
Central Park is 843 Acres.

Central Park celebrates its 150th birthday on 21 July 2003. © GettyImages



©fredericklawolmsted



The Pond At Central Park
©centralparknyc


Central Park, An American Masterpiece: A Comprehensive History of the Nation's First Urban Park


Buy The Book At Amazon.com
$31.50
National Corvette Museum.
To Celebrate Corvette's 50th Anniversary, the National Corvette Museum presented a Historic Motorama of Corvettes.
Ford Motor Company
History will be made June 12-16, 2003 on the grounds of Henry Ford II World Center in Dearborn, Michigan, when Ford Motor Company celebrates 100 years. Now you have an opportunity to join in the celebration of Ford Motor Company's past, present and exciting future.
Harley Davidson 100 Years Old
Started 100 years ago and going strong - who would believe it but Harley-Davidson is more popular than ever with Baby Boomers Generation!!
60th Annual Golden Globe Award
Sunday, Januray 19th, 2003
The Hollywood Foreign Press Association awards the Golden Globes to honor achievements in film and television during the calendar year.



19 July, 2003




By SARA KUGLER
Associated Press Writer
July 19, 2003, 1:13 PM EDT

NEW YORK -- Central Park celebrated its 150th birthday on Saturday with a giant cake in the shape of its most famous fountain, two renowned tenors singing "Happy Birthday" and activities from pet parades to croquet.

Gathered around the cake at Bethesda Fountain, its inspiration, hundreds of park enthusiasts belted "Happy birthday Central Pa-ark," led by tenors Marcelo Alvarez and Salvatore Licitra.

The nation's first major public park was born 150 years ago in 1853 when the Legislature set aside the 843 acres, to be designed by Frederick Law Olmsted and Calvert Vaux.

Portions of the park's southern and northern ends opened to the public in 1861. The rest of the park's hills, paths and ponds were under construction for 16 years. Ten million cartloads of soil replaced a landscape of swamps and bedrock, while an underground drainage system was installed to create ponds and lakes.

The birthday party drew New Yorkers from all corners, celebrating their own special memories _ lovers who once snuggled in a carriage ride, runners who crossed the marathon finish line there, families who sprawl on picnic blankets each summer, children who beg parents for a ride on the carousel.

"It's sort of our own backyard," said Donald King, walking hand-in-hand with his 5-year-old daughter, Cameron. "We find it amazing that this remarkable stretch of ground has been maintained to be a playground and haven for New Yorkers for so many years."

Central Park draws 25 million visitors annually to its 58 miles of pedestrian paths and 150 acres of water bodies. No official count on the number of dogs that sniff its trails.

From dachshunds to Great Danes, the park's canine visitors were included in the celebration on Saturday. Hundreds trotted along with their owners in a dog parade, led by a woman holding a giant balloon bouquet and sign that read "150 years of dogs."

Jim Giglio and his family watched the procession from atop a grassy knoll, munching on French bread and brie. The Giglios come to Manhattan from their home in Albany, N.Y., about twice a year _ and never miss a visit to the park.

"There's always something going on," said Lori Giglio, Jim's wife.

The park's actual birthday is Monday, but organizers thought more people would enjoy a weekend birthday party.

The activities spanned the full day, taking advantage of the lush, green surroundings _ an oasis for city dwellers accustomed to an urban life of pavement and skyscrapers. From 59th Street to 110th, the park's north-south borders, New Yorkers and tourists listened to live music, played croquet, sat for a storytelling and basked in sun and shade.

"It's an escape from a small Manhattan apartment," said Larry Wasserman, who used to take his girlfriend, Erica, on dates to summer concerts in the park.

Then they married, and had daughter Jolie. Now the Upper East Side 2-year-old is a regular at the park's zoo and playgrounds.

Copyright © 2003, The Associated Press

On the 150th anniversary of the creation of New York's Central Park, LIFE takes a look back at what made this urban oasis so famous for city dwellers and tourists alike. July, 1951 ALFRED EISENSTAEDT / TIMELIFEPICTURES

Life.com
Central Park Classic Pictures



Bird's Eyes View
©cipanp2003.bnl.gov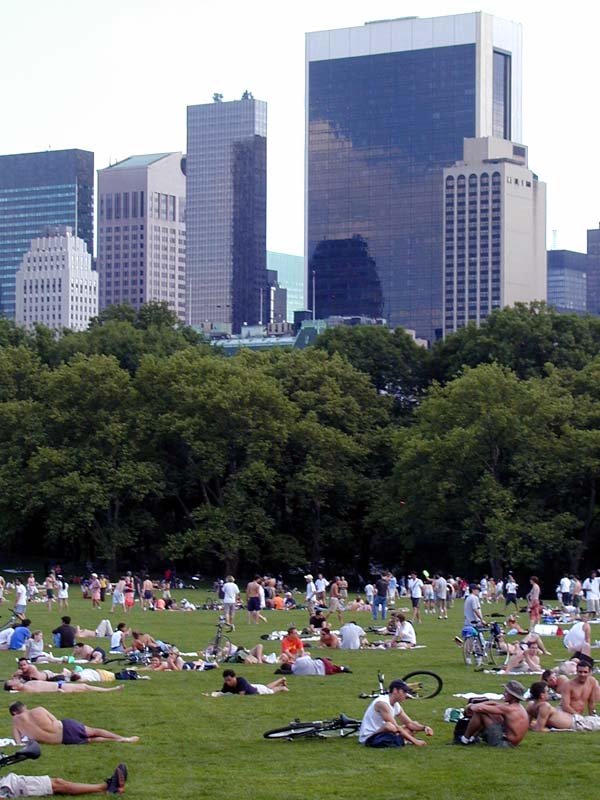 ©www.wirednewyork.com



The Strawberry Fields in Central Park. It is named after the song Strawberry Fields Forever in honor of John Lennon (1940-1980). www.wirednewyork.com


---
History Of Central Park

At the beginning of the 19th century, there were 60,000 people living in New York City, mostly congregated in lower Manhattan. A wave of immigration that began in the 1830s caused the population to grow to more than 300,000 in the 1840s and swell to over 500,000 by 1850. By mid-century, however, most New Yorkers still lived below 38th Street in crowded, chaotic quarters. The volume of street noise from carriage wheels alone challenged the sanity, much less serenity, of these early residents. To escape the press of bodies and the din of city life, people sought refuge in.



---
Central Park is the most filmed public park in the world. Since 1908, more than 170 movies containing scenes in Central Park have been released. Check out the list below, sorted alphabetically by title, of the movies shot in Central Park.


Movie Title    		Year 

Alice  			1990 

A Man's Castle		1933
 
American Taxi Driver	1987
 
An Affair to Remember	1957
 
And Then You Die	1985
 
A New Life		1987
 
Anna			1987
 
Annie Hall		1977
 
Antz			1998
 
Arthur II: On the Rocks	 1987
 
Autumn in NY		 2000
 
Baby Boom		 1987
 
Balto			 1995
 
Barefoot in the Park	 1967
 
Beginners		 1982
 
Belle of New York	 1952
 
Big Business		 1987
 
Big Daddy		 1999
 
Blindfold		 1966
 
Blue Jean Cop		 1987
 
Born to Dance		 1936
 
Breakfast at Tiffany's	 1961
 
Breeders		 1985
 
Brewster's Millions	 1984
 
Broadway Danny Rose	 1982
 
Broadway Melody of 1938	 1937
 
Bullets Over Broadway	 1994
 
Bum Rap			 1988
 
Carnal Knowledge	 1971
 
Cat People		 1942
 
Central Park		 1933
 
Charing Cross Road	 1986
 
Cocktail		 1987
 
Crimes and Misdemeaners	 1989
 
Crocodile Dundee II	 1987
 
Daniel			 1982
 
Dead End Kids		 1985
 
Death Wish		 1974
 
Deconstructing Harry	 1998
 
Desperately Seeking Susan 1984
 
Die Hard with a Vengeance 1995
 
Double or Nothing	 1937
 
Everyone Says I Love You 1996
 
Exterminator II		 1983
 
Eyes of Laura Mars	 1978
 
Eyewitness		 1981
 
F/X			 1985
 
Fatal Attraction	 1987
 
Father Gets in the Game	 1908
 
Fingers			 1978
 
Forever Lulu		 1986
 
Fuzz			 1972
 
Ghostbusters		 1983
 
Godspell		 1973
 
Godzilla		 1998
 
Gold Diggers of 1933	 1933
 
Green Card		 1990
 
Hannah and Her Sisters	 1986
 
Hair			 1979
 
Hallelujah I'm a Bum	 1933
 
Hang Tough		 1985
 
Hard to Get		 1938
 
Hello Again		 1987
 
Highlander		 1985
 
Home Alone 2 - 
Lost in New York	 1992
 
I Love New York		 1986
 
I Miss You Aunt Jenny	 1985
 
I The Jury		 1981
 
I'm Not Rappaport	 1996
 
Imagine			 1986
 
It Should Happen to You	 1954
 
Jenny			 1970
 
Key Exchange		 1984
 
Kramer vs. Kramer	 1979
 
Laser Man		 1987
 
Last Days of Disco	 1998
 
Little Murders		 1971
 
Little Old New York	 1923
 
Love em or Leave em	 1926
 
Love Story		 1970
 
Lovesick		 1982
 
Made in Argentina	 1986
 
Manhattan		 1979
 
Manhattan Murder Mystery 1993
 
Marathon Man		 1976
 
Married to the Mob	 1987
 
Melanie Rose		 1988
 
Mighty Aphrodite	 1995
 
Miracle in the Rain	 1956
 
Molly-O			 1985
 
Moscow On the Hudson	 1983
 
My Demon Lover		 1986
 
My Favorite Year	 1981
 
New York Stories	 1988
 
Night People		 1981
 
No Small Affair		 1981
 
Offbeat			 1985
 
Oliver's Story		 1978
 
On The Town		 1949
 
One Fine Day		 1996
 
One More Spring		 1935
 
One Trick Pony		 1980
 
Orphans			 1986
 
Paternity		 1982
 
Politician's Love Story	 1909
 
Popi			 1969
 
Portrait of Jenny	 1948
 
Ransom			 1996
 
Return of Billy Jack	 1985
 
Rich and Famous		 1981
 
Romeo and Juliet	 1908
 
Scarecrow in a Garden
of Cucumbers		 1972
 
Scared Stiff		 1986
 
Scrooge			 1987
 
Shadows			 1960
 
Shall We Dance		 1937
 
Shootout		 1984
 
Six Degrees of Separation 1993
 
Six Weeks		 1982
 
Skates			 1981
 
Someone to Watch Over Me 1987
 
Soup for One		 1981
 
Space Avenger		 1987
 
Splash			 1983
 
Staying Alive		 1983
 
Strawberry Blonde	1941
 
Stuart Little		 1999
 
Stuart Little 2		 2002
 
Sweet Charity		 1967
 
Symbiopsychotaxiplasm	 1967-1991 
Take the Money and Run	 1969
 
That's Me		 1968
 
The Bandwagon		 1953
 
The Believers		 1986
 
The Big Blue		 1987
 
The Brothers McMullen	 1995
 
The Bostonians		 1983
 
The Clock		 1945
 
The Devil's Advocate	 1997
 
The Fan			1981
 
The Fisher King		 1991
 
The Hunger		 1983
 
The January Man		 1988
 
The Lady from Shanghai	 1948
 
The Manchurian Candidate 1960
 
The Marrying Kind	 1952
 
The Mirror Has Two Faces 1996
 
The Missioner		 1982
 
The Muppets Take Manhattan 1983
 
The Night We Never Met	 1993
 
The Object of My Affection 1998
 
The Out of Towners	 1970
 
The Out of Towners	 1999
 
The Owl and the Pussycat 1970
 
The Pickup Artist	 1986 
The Prince of Central Park 1999
 
The Producers		 1967
 
The Spanish Prisoner	 1998
 
The Way We Were		 1973
 
The World of Henry Orient 1964
 
Three Men and A Baby	 1987
 
Thursdays Game		 1974
 
Tootsie			 1983
 
Top Hat 		 1935
 
Traces			 1981
 
Two of A Kind		 1983
 
Up in Central Park	 1948

Wall Street	 	 1987

When Harry Met Sally	 1989

Where's Poppa 		 1968

Wolfen			 1981

You're a Big Boy Now	 1961
 
You've Got Mail 	 1998 
------------------------------------------
REFERENCES:
• Official Frederick Law Olmsted National Historic Site
• St. Petersburg Times
• St. Petersburg Times - Photos
• Frederick Law Olmsted
• Frederick Law Olmsted's Central Park
• Central Park

LINKS:
• Central Park Oasis
• New York Photos Menus

Wired New York

Schedule of concerts for summer 1999

This is the Premiere reference to New York City happenings.

Select watercolors of New York for Central Park artwork.

Amateur sports in the City.

A runners club based in Central Park.

A safety patrol organization.

A New York based community site.

Birds in Central Park.


LATEST NEWS
Hi-tech halo to mark Central Park's birthday.
Pyrotechnic pixels position huge ring of fireworks.
19 July 2003
HELEN PEARSON
Last year pyrotechnic pixels made a rainbow over New York's East River. © Fireworks by Grucci
The pyrotechnic highlight of most birthdays is a ring of candles. But in honour of Monday's 150th anniversary of New York's Central Park, more than 1,000 microchip-controlled fireworks will explode together into a spectacular halo of light - on September 15.
Light Cycle will begin at 7.45 pm on 15 September 2003.
• Hi-tech halo to mark Central Park's birthday
• Reason To Celebrate Central Park



MORE BLAST FROM THE PAST
• ABC 50Th Aniversary
• 60Th Annual Golden Globe Award
• KOREA War 50Th Anniversary
• 50Th Anniversary - Mount Everest
• Queen Elizabeth's 50Th Anniversary
• Bob Hope 100Th Birthday
• Harley Davidson - Corvette's


Please come back and visit this page again.

Content © Boomers International. Some content is copyrighted by the specified author, photographer and/or artist.